Department Student Advisors (DSAs) are senior majors who are nominated by the departments and make themselves available to students to answer questions about the department. They know firsthand what it's like to be in the major. They are available via email and at special campus events to answer your questions.
2019-2020 DSA: Josh Gibson
WHAT JOSH WANTS YOU TO KNOW: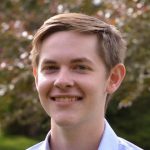 The Computer Science faculty are really helpful and CS students love helping each other learn new skills and concepts.
Go to collaboration center hours! You'll get a chance to meet and work alongside CS majors and minors from all years.
One of the most valuable things I've learned is how to manage my time. It's easy to find a lot of different things to commit your time to. Learning how to balance them and pick them wisely has been an important skill.